Track Project Progress from today ... August 5th. Putting on some new topsoil!
The Track Project is breaking ground at SWCSD! Here are some of the first images of many that we will post daily to keep everyone up to date on the progress!!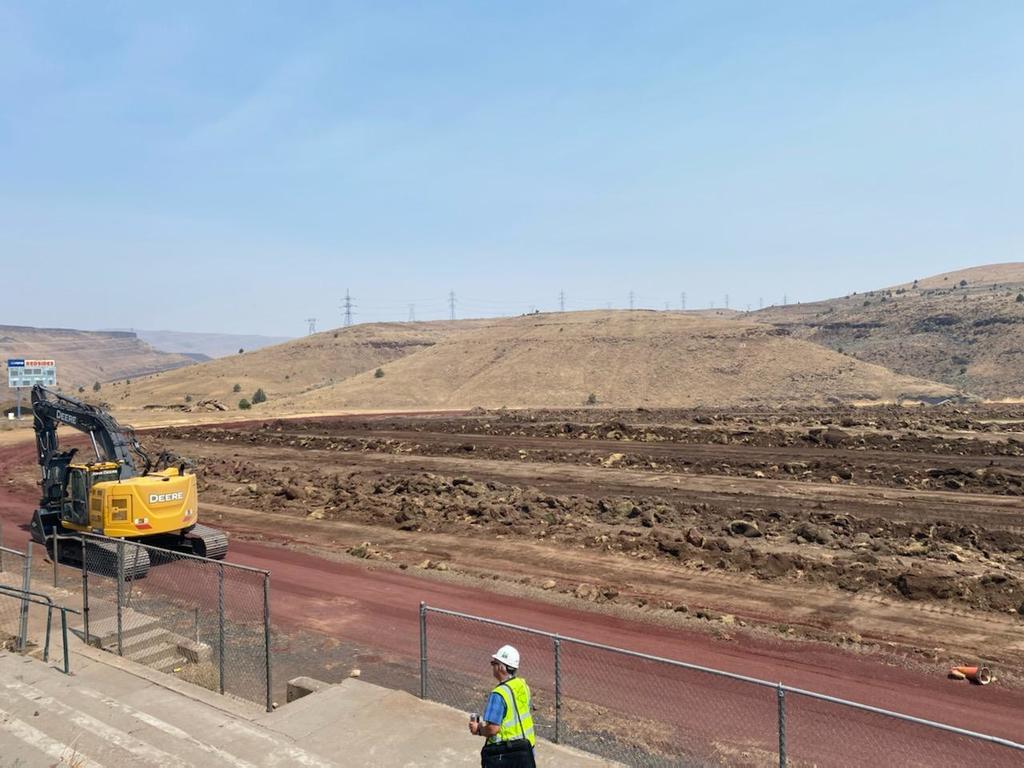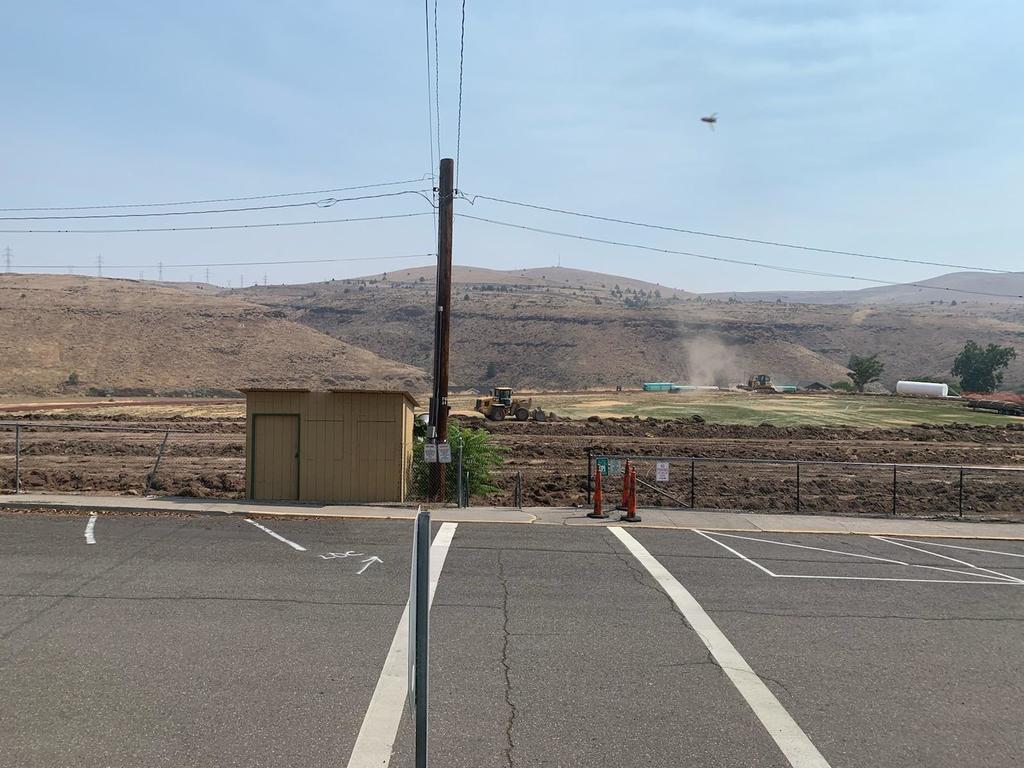 Like many Districts in the state, South Wasco County School District was surprised by the recent announcement from Governor Kate Brown regarding the mask mandate. Over the last several months Oregon School Districts have been asking for local control, and in June it was announced that public schools would make decisions about COVID-19 protocols and mask mandates for the upcoming school year. Regardless of whether you believe K-12 students should or shouldn't wear masks, we are continuing to ask state agencies to allow communities to make these decisions locally. Thank you.
The South Wasco County School District still has sod available! If you want some free sod come on down to the Football field to roll up and load your free sod. We will not be cutting sod any longer after Wednesday, June 30th. Donations are welcome & will go towards DRAC.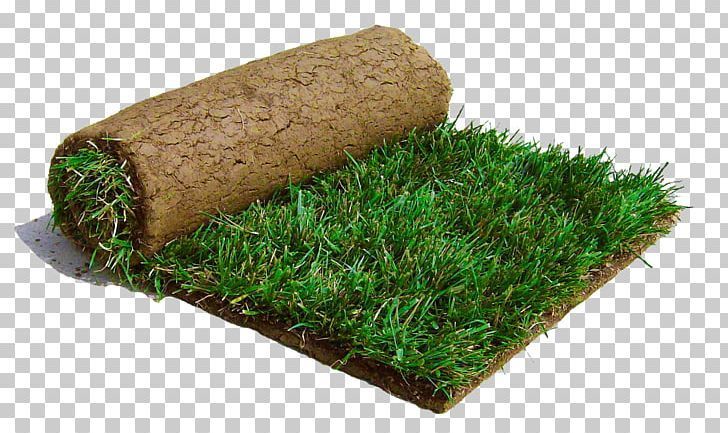 The SWC 2021-22 District Calendar has been approved! For a printable calendar go to Menu/Calendars/District Calendar 2021-22.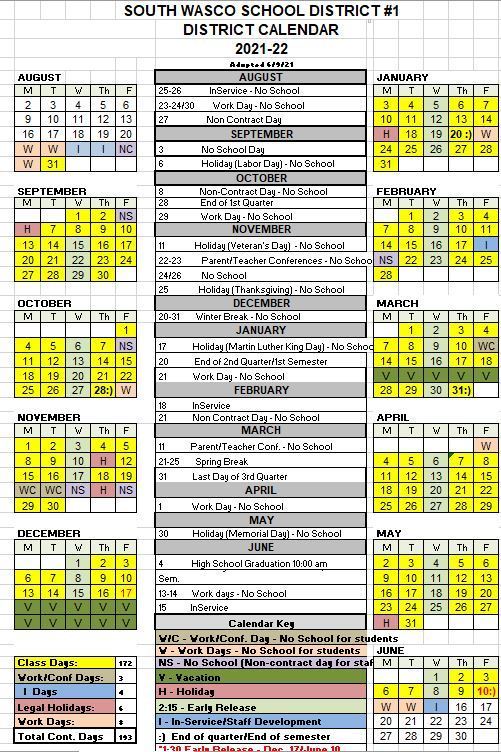 Today's (June 4th) High School Basketball game with Dufur will start at 3:00pm with the Boy's playing first and the girls playing at 4:30pm. And on Monday, June 7th the Junior High Basketball game with Sherman has been cancelled.
Basketball Practice Begins at SWCSD! Junior High Basketball practice begins today Monday, May 10th and High School Basketball practice begins next Monday, May 17th.
2021 Spring Parent Teacher Conferences will be on Friday, May 7th. Conferences will be done via phone calls or zoom this year. The High School parents can schedule their times by going to the website and clicking on the "Book Your HS Conference" button on the main page.
This is the SWCSD with an important message .. starting on Monday, April 12th we will be changing the school times for all our students K-12th Grade to 9:00am-3:15pm. A letter from Mr. Hull has been emailed with more details to all parents/guardians.
There will be an added Home High School Volleyball game tomorrow, April 7th against Heppner at 4:00pm. The volleyball games are by player invitation only and are not open to the public. You can watch the games also through the NFHS site which you can access via our webpage.
The Junior High Home Football game today, April 5th, will start at 4:30pm instead of 4:00pm to accommodate officials.
Important Notice: The SWC High School Volleyball game at Lyle tomorrow 4/6/21 has been cancelled.
The High School Homecoming Football game against Joseph on Friday, April 2nd, has had a time change from 3:00pm to now 2:00pm. Please get the word out to anyone you know who planned on attending the game! Go Redsides!
Important reminder to all of our 6th Grade Parents and Guardians: Starting on Monday, March 8th the 6th grade will attend school from 10:00am to 4:00pm. Buses will pick up and drop off the students two hours later than their current time.
As you already may know, we have cancelled school for today (Monday, March 1st) due to some of our teachers experiencing flu-like symptoms from getting their second round of the Covid vaccine this weekend. Hopefully we will see everyone at school tomorrow!
This is just a reminder that the High School Focus Friday groups begin tomorrow, February 26, 2021. If you are scheduled for a Focus Group please remember Session One begins at 10:00 am and schedules have been emailed to all students who are participating.
High School Focus Friday for scheduled students is cancelled for tomorrow 2/19/21 due to the road conditions. Tomorrow will be a distance learning day for all students.
Today, Thursday February 11, 2021, will be a distance learning day for K-12th grades due to inclement weather. All in-school learning or activities scheduled for today are cancelled.
Today is a K-12 Distance Learning Day, Monday January 25th due to icy roads and snowy conditions. Please check in with your teachers via zoom and google classroom to get your assignments for today.
Bond Building Committee Members needed. The district is looking for one grade school parent and one high school parent. The committee will be meeting quarterly to review bond/project alignment. If you are interested contact the district office. Thank you :)