SWCSD will have a 2 hour delay today Friday November 18, 2022 due to icy side roads throughout the School District being very slippery.
SWCSD is now closed for today Thursday, November 17, 2022 due to icy roads and freezing fog through out the School District. Any activities planned for today have also been cancelled.
SWCSD will be on a 2 hour delay today Nov 17, 2022 due to icy road conditions throughout the School District.
Today is the last day to shop at the Book Fair! We will be here from 10:00-2:00, come on down before it's gone. And just a reminder the library has moved into the middle school building to the right of the Grade School. Happy Veteran's Day!
Hey Redsides Fans! Our Redsides Football Team plays Triangle Lake in their OSAA State 1A(6) Semifinal Football Game at Wilsonville High School at 12:00pm on Sat, Nov 12th. Come watch & cheer on our Redsides Football Team to a BIG WIN! Pre-buy your tickets online!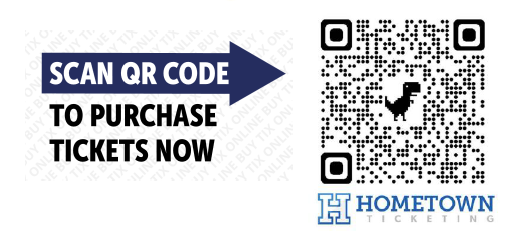 You are never too old for the Book Fair! Juniors Hannah and Julie loved browsing through the selection of books here at the fair. Will be here until 4:00 today, all money made helps buy new books for our school libraries! Happy Reading :)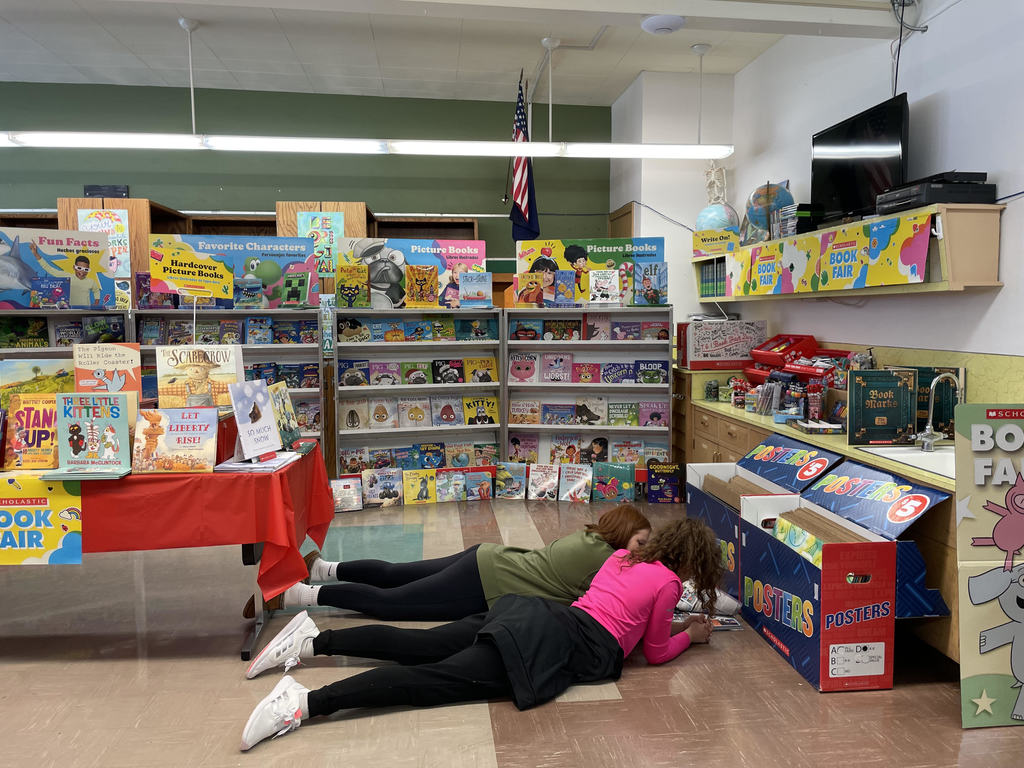 Come visit the Scholastic Book Fair this week at the Maupin Grade School Library! Open from 7:30 - 4:00 today :)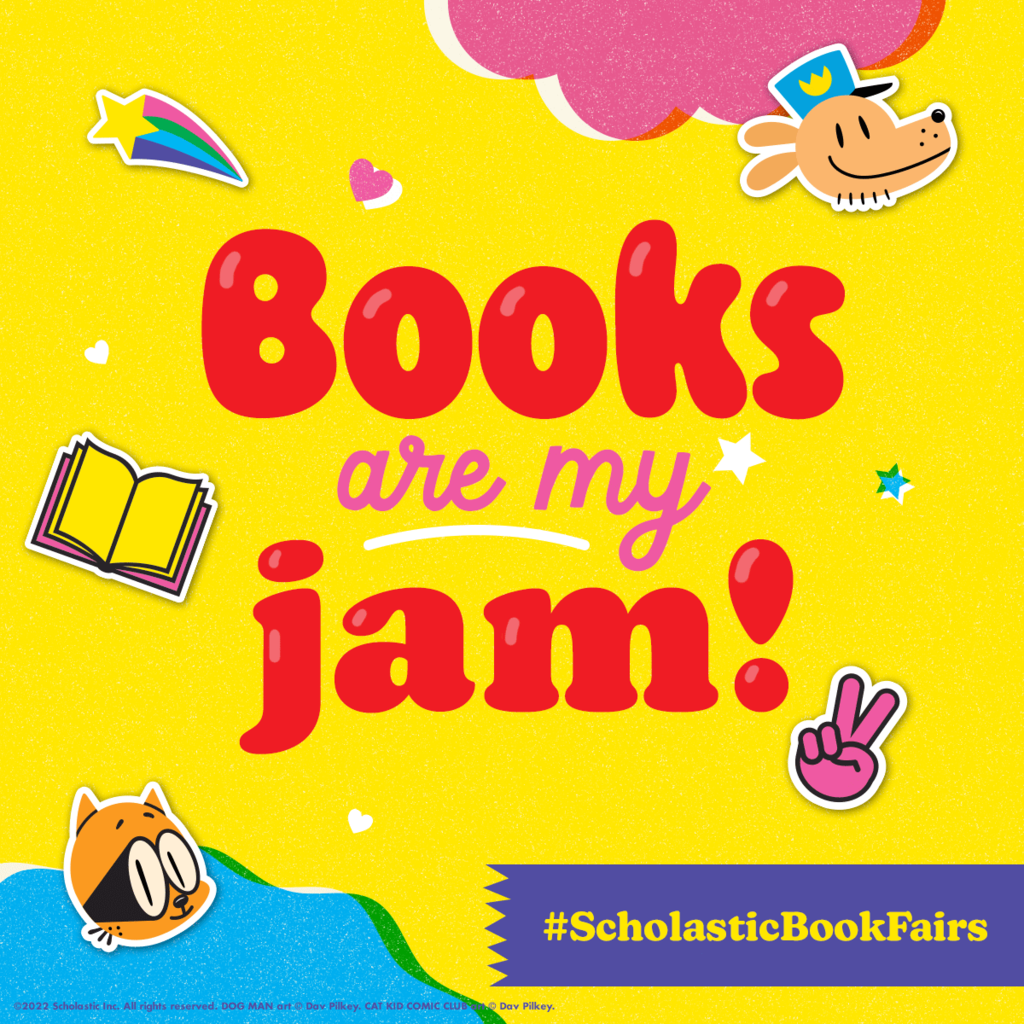 Hey Redsides Fans!! Come & Cheer on our Redsides Football Team as they play in their OSAA 1A-6 Player Football Quarterfinal Home Game against Elkton this Saturday, November 5th at 1:00pm. Tickets are $10/Adults and $6/Students. Go Big Green!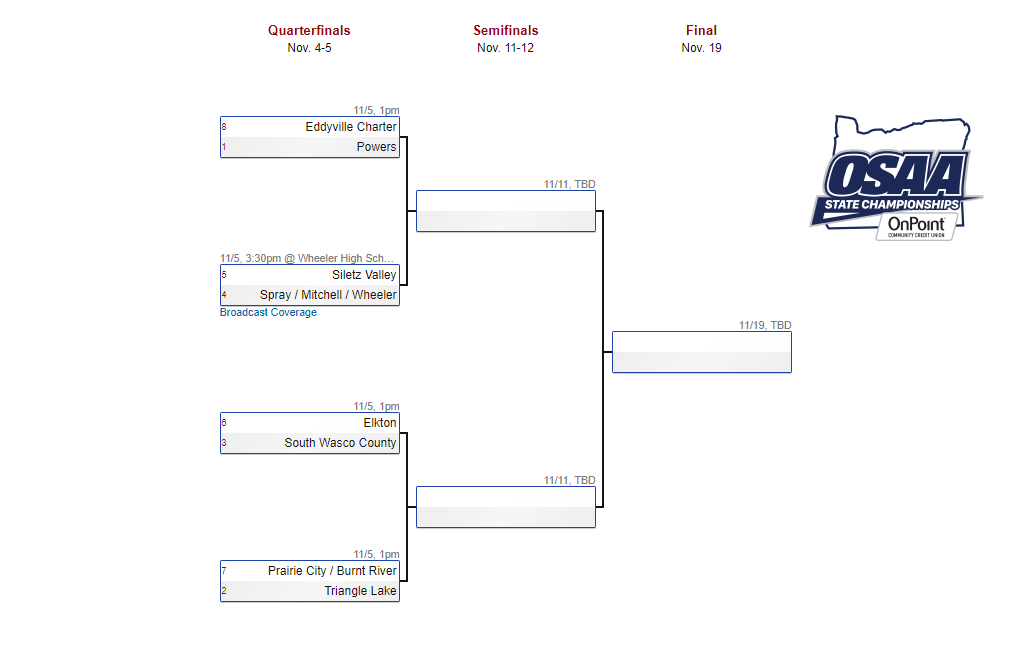 Here is a nice aerial view of the new bleachers and pickle ball courts. Just a few more safety features to install in the bleacher area and it will be open for use! Looks amazing :)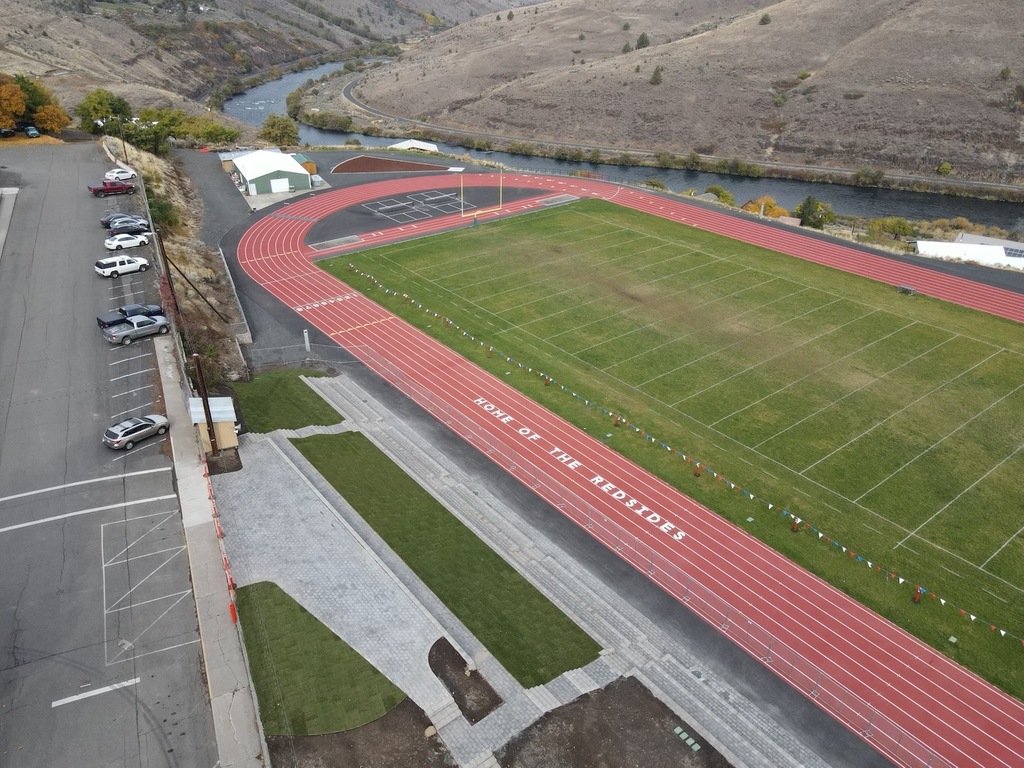 Even though we did not win our Round 2 State Playoff game against Powder Valley on Saturday, we would like to congratulate our Lady Redsides on a job well done! We are so proud of you and how hard you worked and how well you worked together as a team! We love you Lady Redsides!
Our annual Scholastic Book Fair is next week November 7th - 11th! To kickstart the fair we are doing a school-wide Coin Drive fundraiser, all money raised will go towards buying books for our library! Scholastic will also match any money raised and donate it to a charity that provides books to kids in need around our country. Donation jars are in all grade school classrooms, as well as the offices, and the library, feel free to contact Carly Johnson if you have any questions. Happy Reading! :)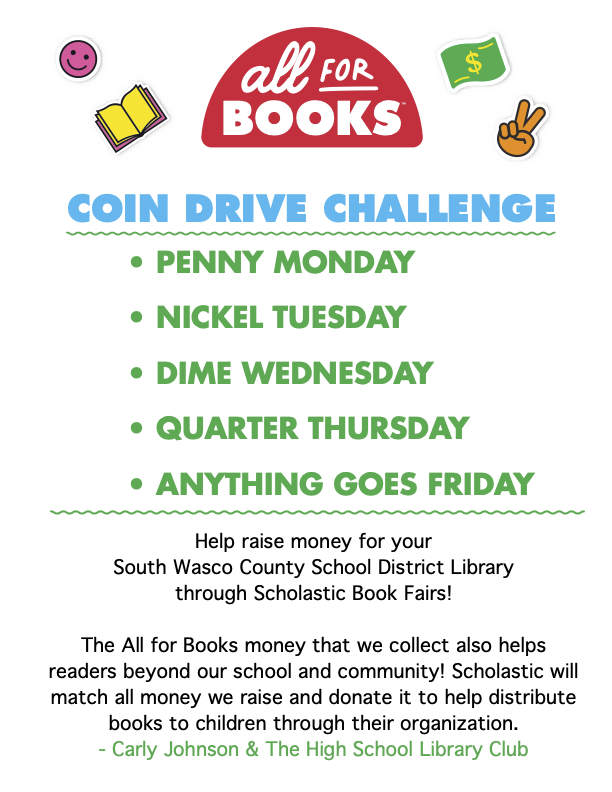 The haunted corn maze is happening right now at Back Walter's Farm. Open 'til 10! Proceeds go to SWCMS!
Come watch and cheer on our Lady Redsides as they play in their 1st State Playoff game against Southwest Christian on Wednesday, October 26th at 5:30pm! Tickets $10/Adults and $6/Students (5yrs-12th Gr). You can pay cash at the gate or purchase your ticket in advance!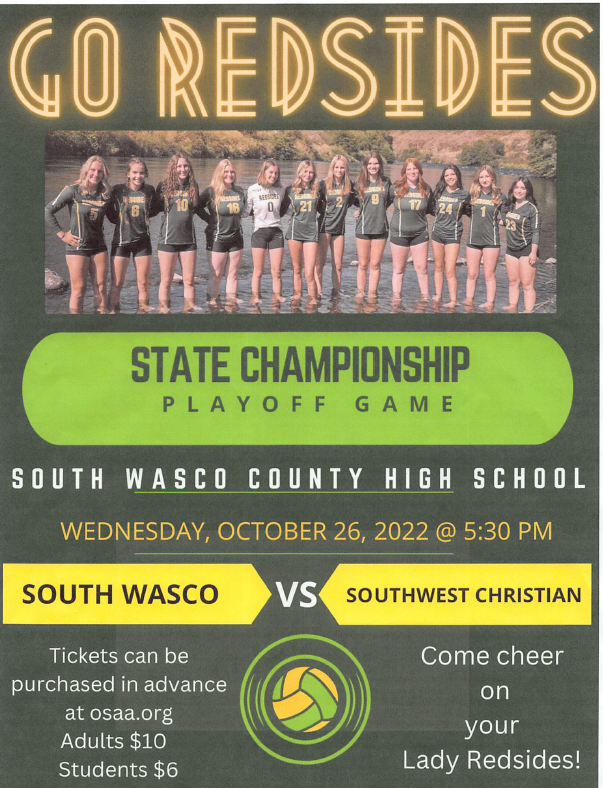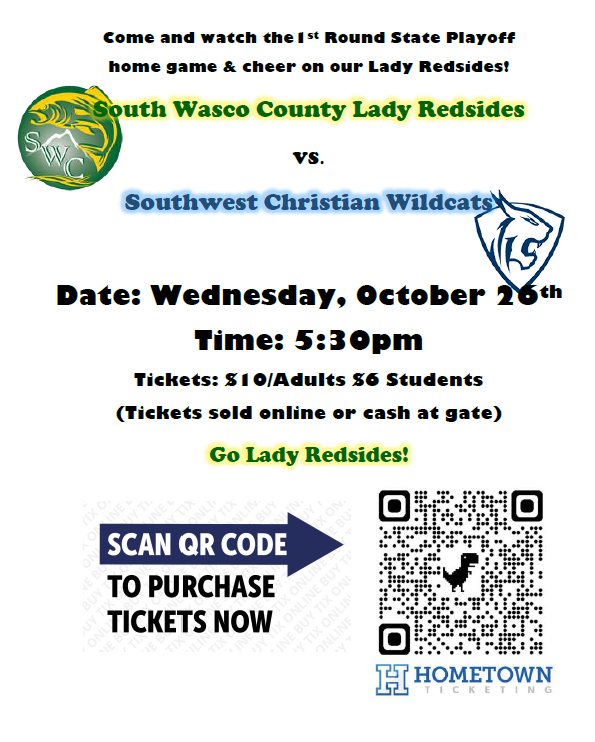 The field bleacher rock work is complete and looks great! Next, we have the landscaping work happening over the next couple of weekends. What an amazing addition to our new track and field!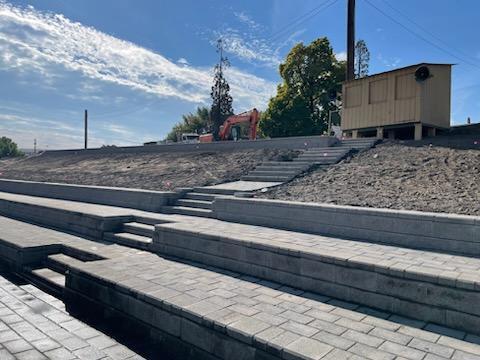 Come visit the haunted corn maze at Back Walters Farm- Oct. 28th. Proceeds support the SWCMS student council!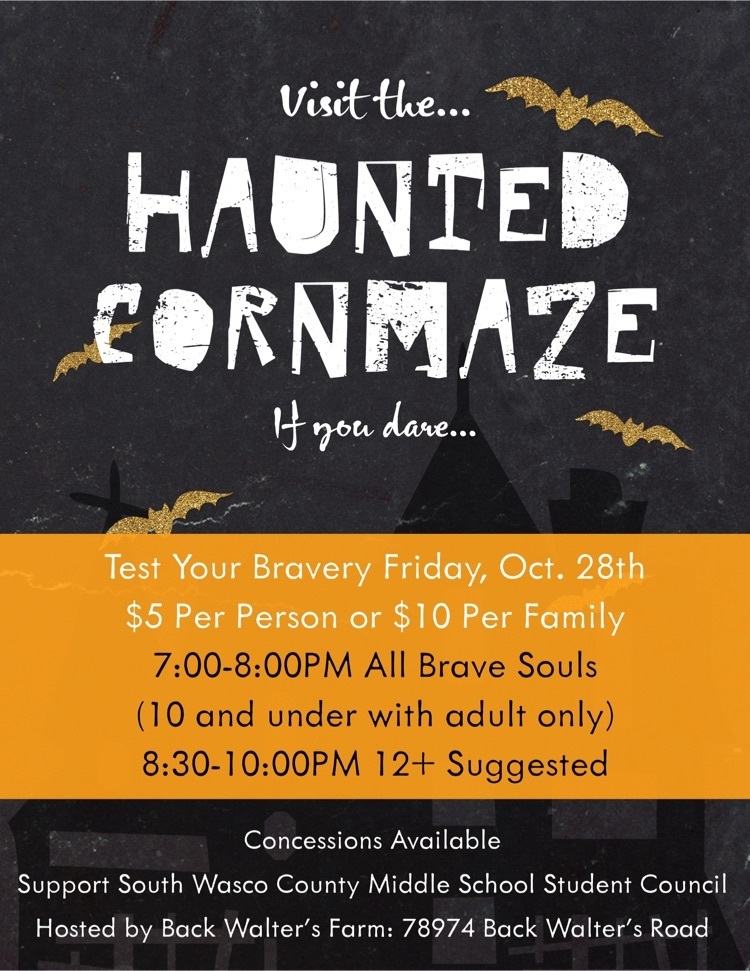 The SWC Junior High Volleyball game at Horizon Christian today, Wed Oct 12th, has been cancelled.
SWCSD JH Volleyball Schedule Change: The Junior High Volleyball home game against Condon today (Mon Oct 10) has been cancelled.
Just a reminder that that tomorrow night, September 21st beginning at 4:00pm, is the K-8th Back to School Night starting in the GS Gym. We look forward to seeing you there!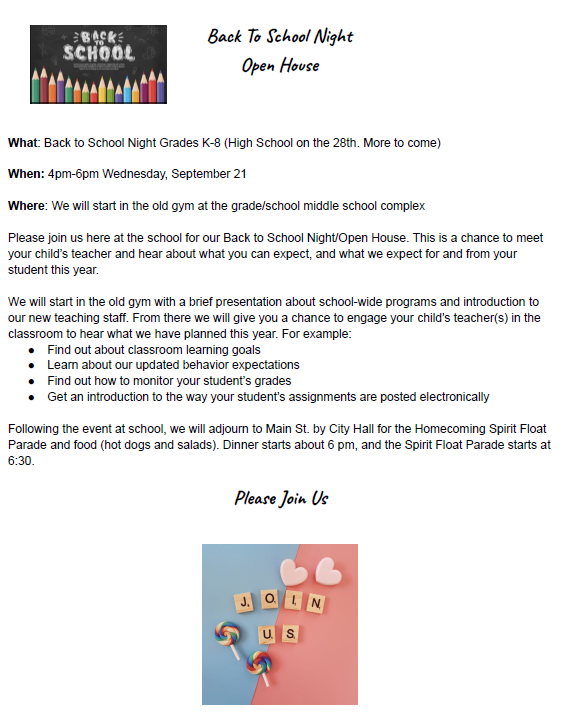 There has been a lot of progress on the bleacher work this week. Check out the new photos. :)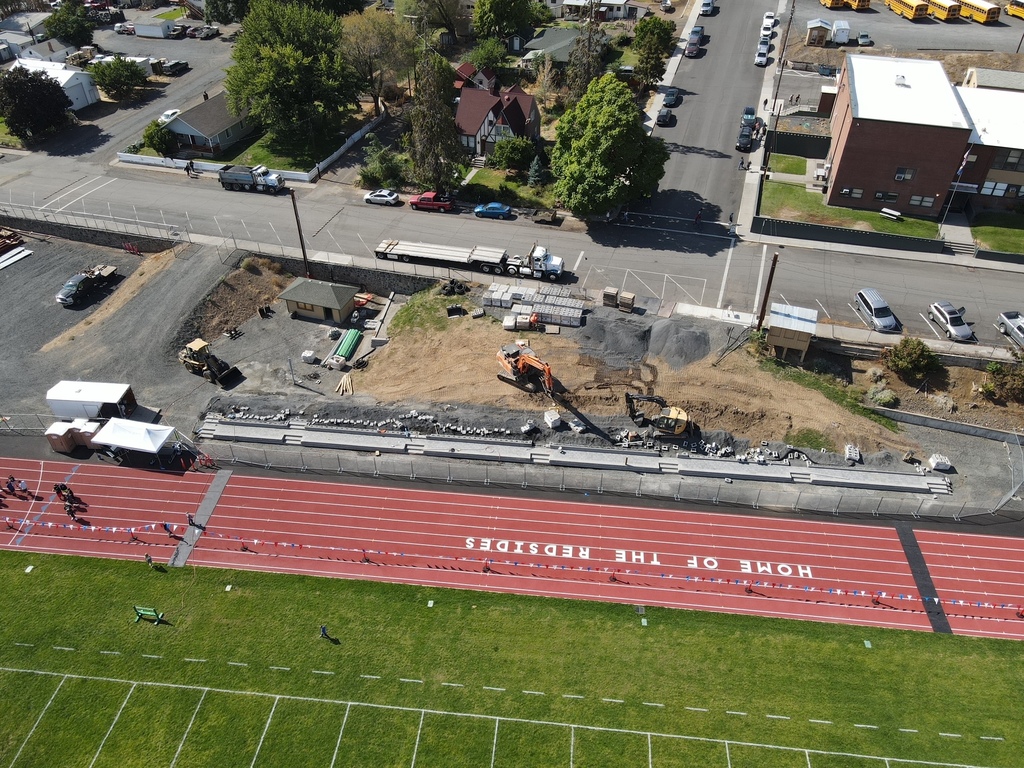 Phase 2 of the track project is off and running! This week the lower (field level) bleachers were installed, complete with steps. It looks great!