If you are coming to or competing in today's 3-on-3 tournament, registration starts at 10AM, Captain's meeting is at 10:30AM, and games will commence at 10:45AM.
Join us tonight: 7pm at Oasis Historic Cabins for our second showing of "An Evening in Athens." Copyright: The Drama Notebook production.
Join us Sunday to raise money for SWCMS students. If you have a team for the tournament, please let Ms. Henson know ASAP. You can register at the event, but an estimate of teams would be helpful! Registration is at 10AM at the high school gym, and Games will begin at 10:30AM.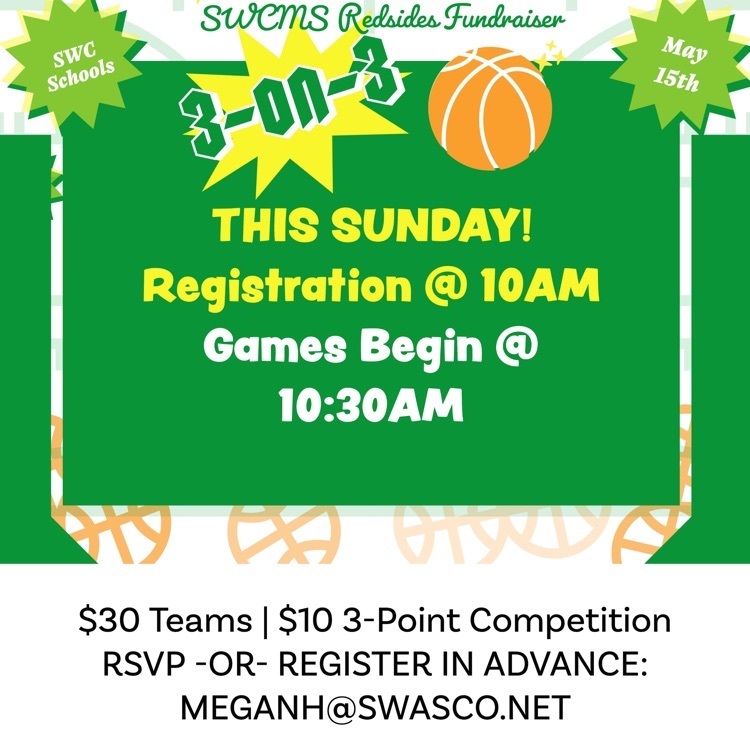 The new Track is ready for the Special District 3-1A Track Meet this week on May 13th & 14th! We are looking for volunteers to help run events and work the District Track Meet both afternoons. If you are interested or available, please call or text Susie Miles @ 541-993-0055.
Reminder: SWC Middle School is looking for teams to play in a 3-on-3 Basketball Tourney on Sunday, May 14th. $30/per team entry fee & there will be a 50-50 prize 3-point competition for $10. Email:
meganh@swasco.net
; Call: 541-395-2225; or pick up entry forms at either school.
SWCSD Track Project is almost complete! Here is the latest birds eye view of the track!
We are looking for teams for this upcoming tournament. Generous sponsors have made some lovely prizes available. Help us earn money for the middle school activities!
CONGRATULATIONS SOUR PATCH KIDS!! Our Middle School team won their Regional competition! They played with such poise and sportsmanship, way to represent our school. They placed first by over 30 points in the pool play round (which is 6 more questions correct than anyone else), then battled hard in each round after that winning out. The final championship score was 40-30! What an exciting day, and a great day to be a Redside! Go OBOB!
Today is our final OBOB competition of the year, with both the Grade School Rapid Readers and the Middle School Sour Patch Kids battling! We will be keeping everyone updated throughout the day. GO OBOBer's!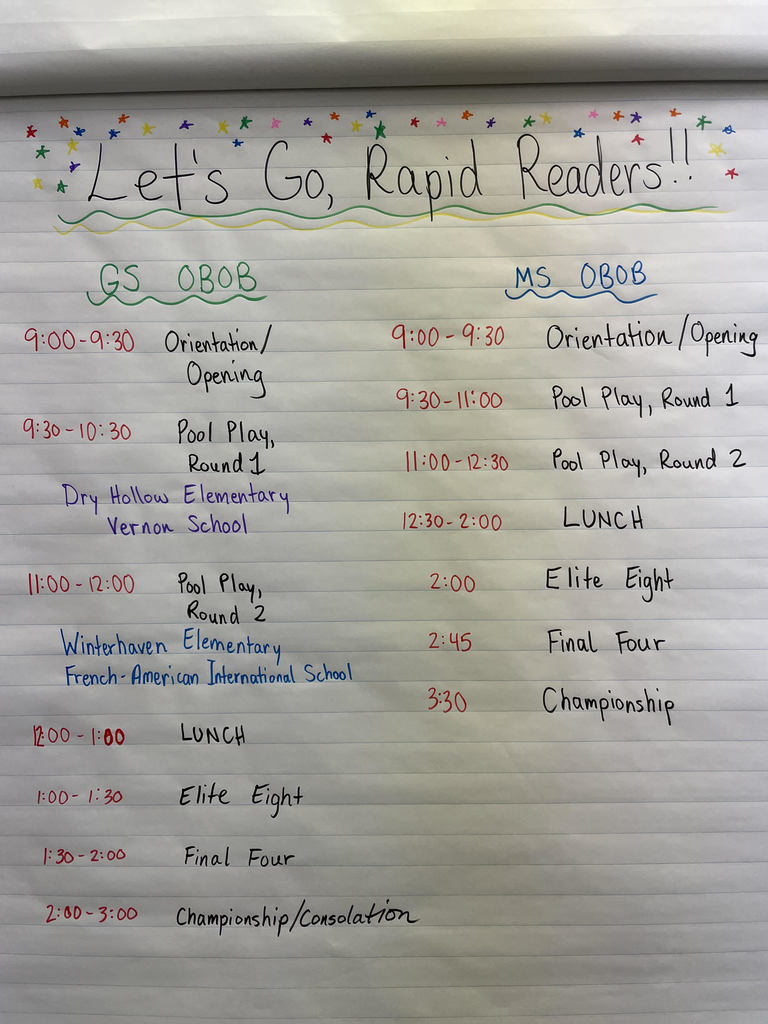 SWC Track Supporters! The track will be poured tomorrow 4/23 and Sunday 4/24. We are looking for volunteers to work one hour each to help Sat & Sun night from 5:00pm-7:00am to help keep the deer off. Contact Susie Miles @ 541-993-0055 if you can help us out!
Come one, come all High School students grades 9-12! You are invited to the SWC High School Job Fair tonight Wednesday, April 20th. Seniors from 5:00-5:30pm and 9-11th Grade from 5:30pm-7:00pm. The job fair will be bringing local employers and students together so please come!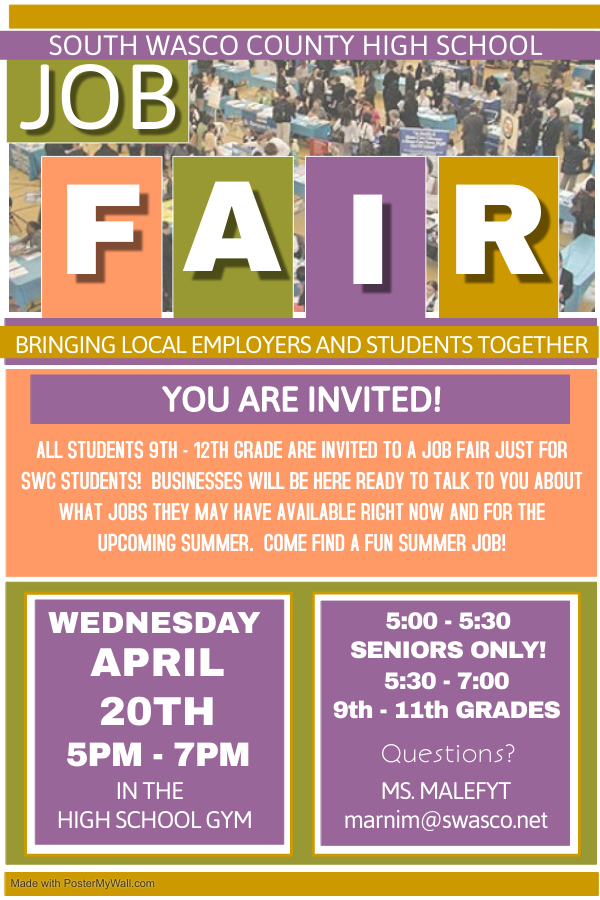 SWCSD is reminding all EL Families that there is a "High School Success" community dinner (provided by The Stockyard restaurant) at the Grange in Wamic this Thursday, April 21st at 6:00pm. We look forward to seeing you there!
SWC High School (9-12th Gr) is having a Job Fair tomorrow, Wednesday April 20th from 5pm-7pm in the High School Gym. Seniors Only from 5-5:30pm & 9-11th Grades from 5:30-7pm.
SWCSD School Board Meeting tonight Wednesday, April 13th has been cancelled. The next School Board Meeting will be in May.
SWCSD is now CLOSED today Wednesday, April 13th due to reports of icy road conditions and snow accumulation.
SWCSD will have a 2-Hour Delay today Wednesday, April 13th due to severe winter road conditions and school will start at 10:15am.
SWCSD is on a 2-hour delay today Tuesday April 12th due to some areas in the district are experiencing icy conditions with new snow, although other areas are dry.
SWCSD is cancelling school today, Monday April 11th due to a surprise snow accumulation across Oregon!
Our Redside OBOB team made it to the Final 4 against Franklin, and after another close battle we lost by 1 question. What an awesome group, way to represent our school! Go Redsides!
Congratulations to our High School OBOB (Oregon Battle of the Books) team for making it to the Elite 8 in our regional tournament! We battle next at 2:00, go Redsides OBOB!