SWC High School Graduation is tomorrow, Saturday, June 4th at 10:00am. Come and watch our Senior Class of 2022 graduate and wish them well on their future endeavors. Congratulations Class of 2022!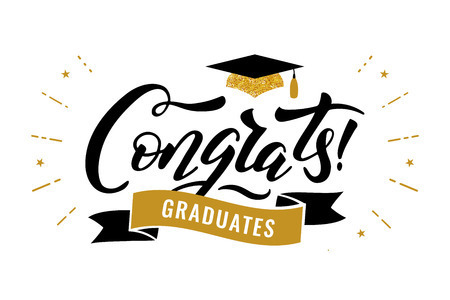 SWC 8th Grade Promotion Night is June 9, 2022 from 6:30-7:30pm at the Maupin Grade School. Congratulations Class of 2026!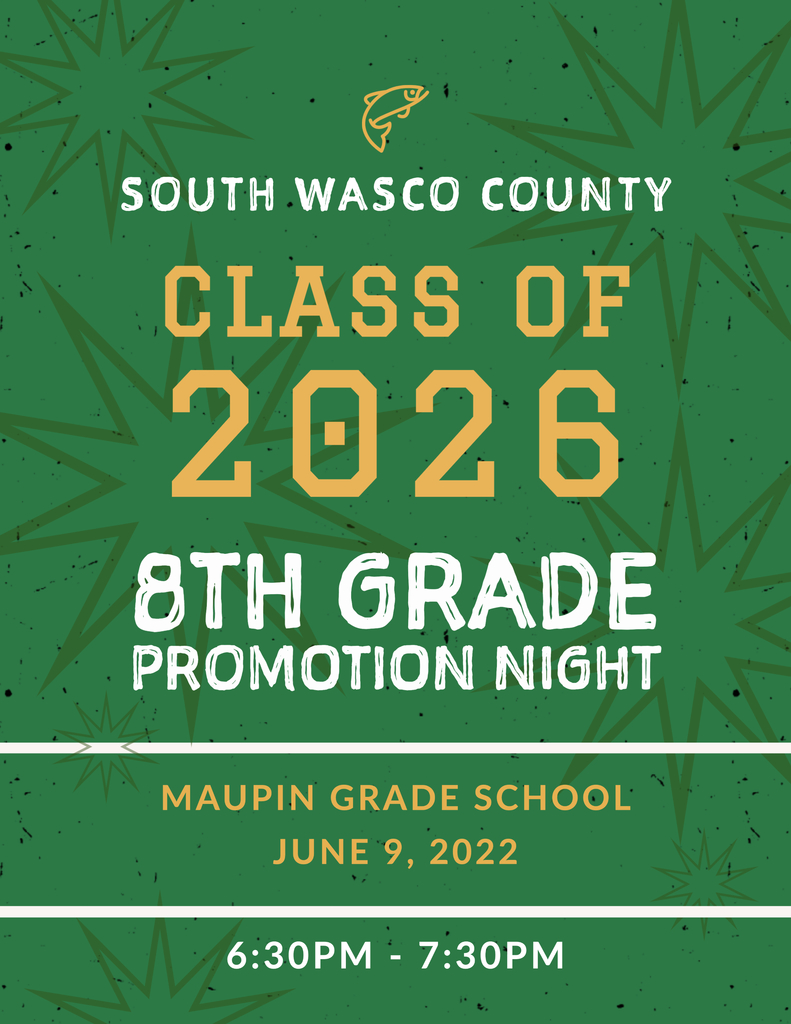 Congratulations to the Dufur/South Wasco County Rangers Baseball team on their 10-0 win against Neah-Kah-Nie yesterday afternoon May 27th in Dufur! They will now play in a Semifinal game against Umpqua Valley Christian in Roseburg on Tuesday, May 31st at 4:30pm.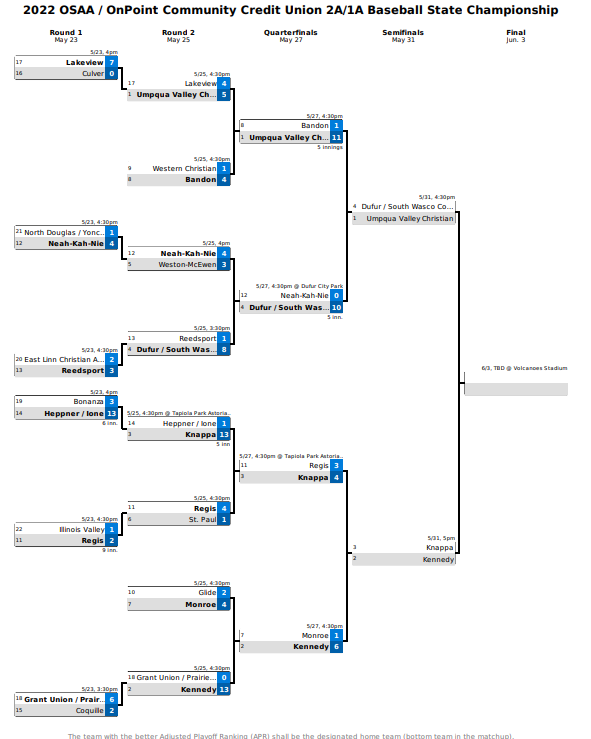 SWC High School Spring Awards Night has been rescheduled to Wednesday, June 1st at 7pm in the HS Gym. Please change your calendars & we look forward to seeing you there!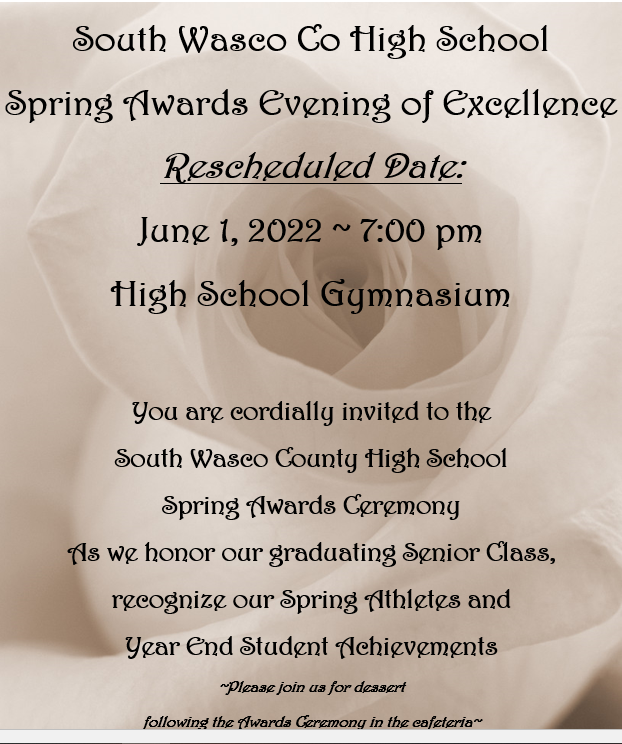 SWC High School cordially invites you to come to our Spring Awards Evening of Excellence on Tuesday, May 31, 2022 in the High School Gymnasium. Come watch as we honor our graduating Senior Class of 2022 and recognize our Spring Athletes & Year End Student Achievement.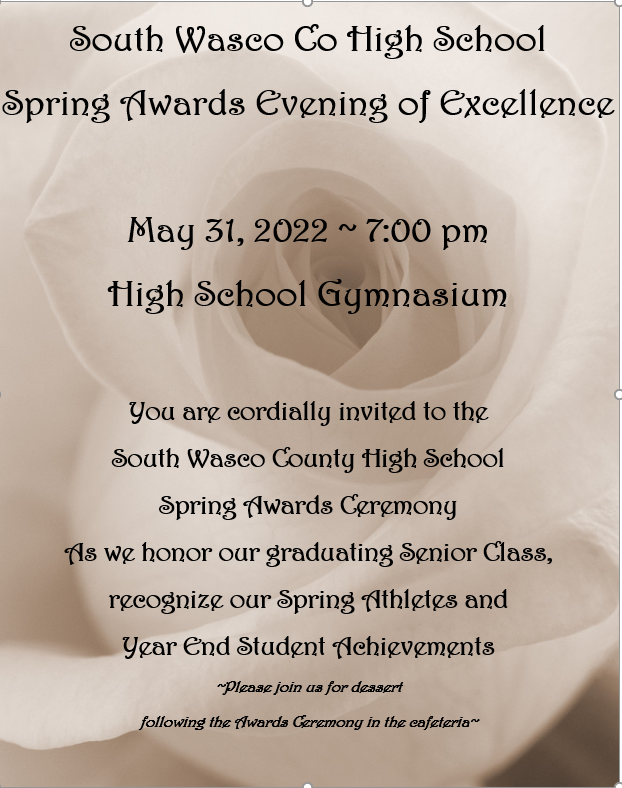 Ramblin' Redsides Summer Program for grades K-7. Info attached.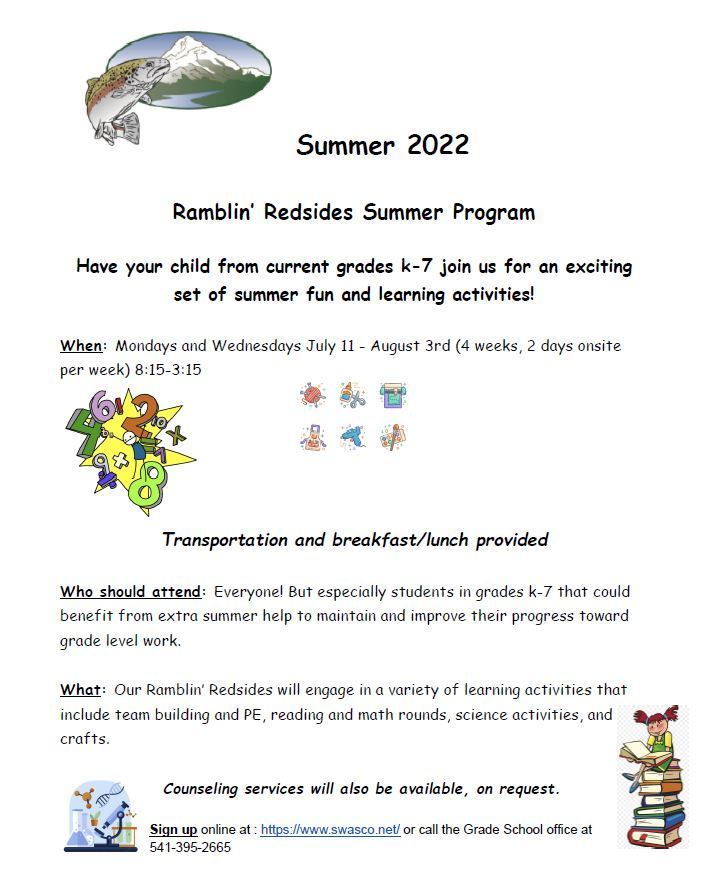 Redsides Summertime Credit Recovery and New Jump Start Program for current 8-12th grades.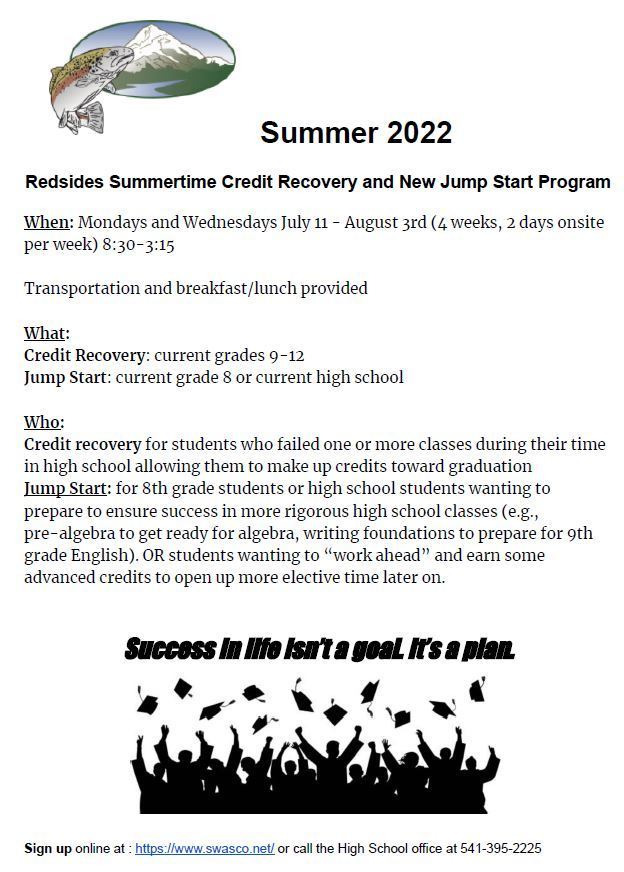 "An Evening in Athens" final performances are both at the Legion Hall this weekend. Friday @ 4pm and Saturday at 7:00pm. Community members have said the show is "wonderfully awesome," that "the play's humor is so fun," that "it was amazing how hard the kids worked on this play," that the "talented cast and crew had me chuckling throughout," that it was a "fabulous production," and that the kids "put their all into the performances." We are taking donations to fund a larger theater program next year. See you this weekend!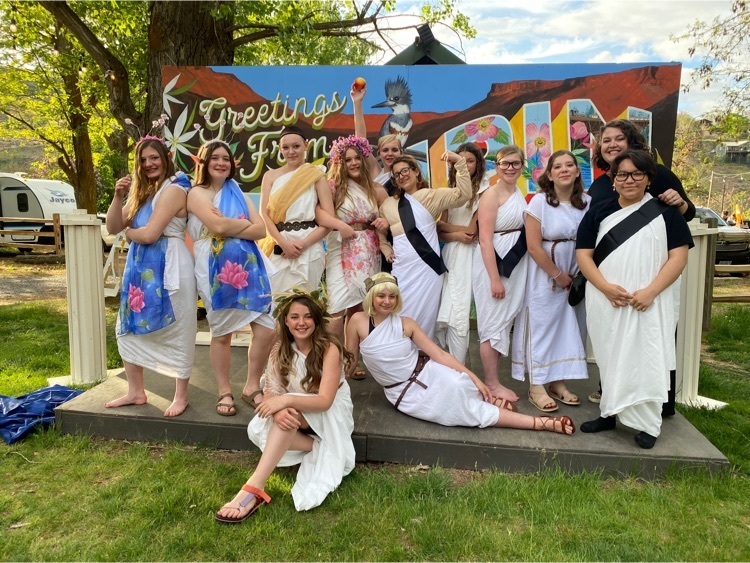 Our South Wasco County Advanced Physics class (most of them) just before launching their own rocket design that we 3D printed. Some very interesting and effective designs. Proud of our students!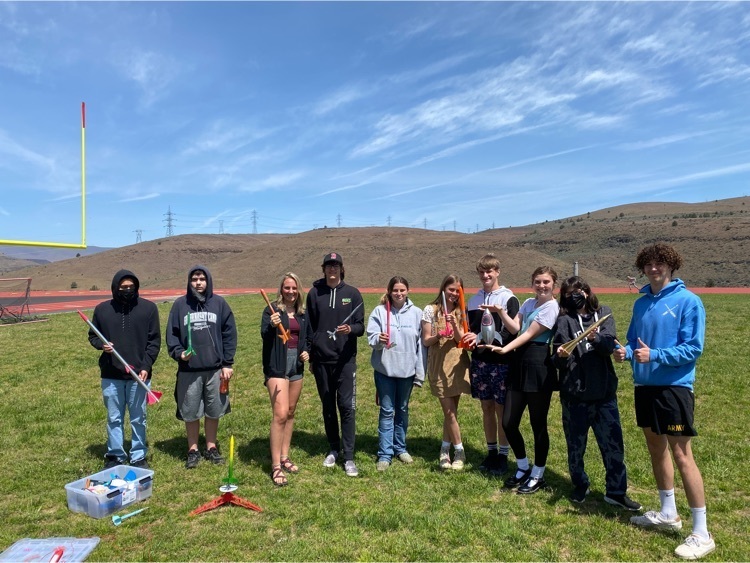 Thank you to everyone who helped with the SWCMS 3-on-3 Tourney! We raised money for middle school programming and community projects. Big Thanks to some of our sponsors: Barnett Service, The Dodge Family, Friend and Reagan, and Davis Shows. We appreciate you!
The SWCMS theater class completed their second showing of "An Evening in Athens." Big thanks to the Imperial and the Oasis for hosting our first events! You can catch our next showings during Maupin Days at the Legion Hall: 4pm Friday & 7pm Saturday. Free & accepting donations.
If you are coming to or competing in today's 3-on-3 tournament, registration starts at 10AM, Captain's meeting is at 10:30AM, and games will commence at 10:45AM.
Join us tonight: 7pm at Oasis Historic Cabins for our second showing of "An Evening in Athens." Copyright: The Drama Notebook production.
Join us Sunday to raise money for SWCMS students. If you have a team for the tournament, please let Ms. Henson know ASAP. You can register at the event, but an estimate of teams would be helpful! Registration is at 10AM at the high school gym, and Games will begin at 10:30AM.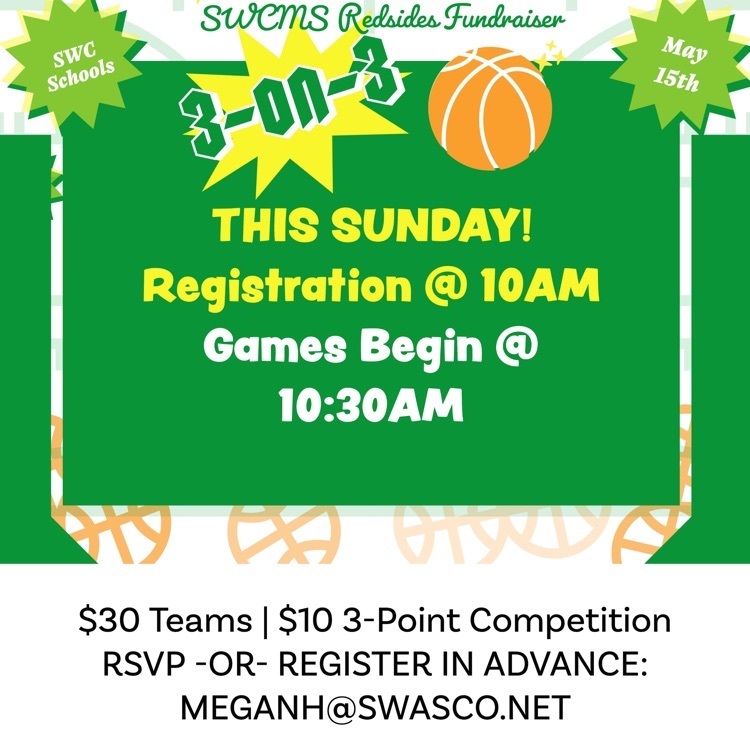 The new Track is ready for the Special District 3-1A Track Meet this week on May 13th & 14th! We are looking for volunteers to help run events and work the District Track Meet both afternoons. If you are interested or available, please call or text Susie Miles @ 541-993-0055.
Reminder: SWC Middle School is looking for teams to play in a 3-on-3 Basketball Tourney on Sunday, May 14th. $30/per team entry fee & there will be a 50-50 prize 3-point competition for $10. Email:
meganh@swasco.net
; Call: 541-395-2225; or pick up entry forms at either school.
SWCSD Track Project is almost complete! Here is the latest birds eye view of the track!
We are looking for teams for this upcoming tournament. Generous sponsors have made some lovely prizes available. Help us earn money for the middle school activities!
CONGRATULATIONS SOUR PATCH KIDS!! Our Middle School team won their Regional competition! They played with such poise and sportsmanship, way to represent our school. They placed first by over 30 points in the pool play round (which is 6 more questions correct than anyone else), then battled hard in each round after that winning out. The final championship score was 40-30! What an exciting day, and a great day to be a Redside! Go OBOB!
Today is our final OBOB competition of the year, with both the Grade School Rapid Readers and the Middle School Sour Patch Kids battling! We will be keeping everyone updated throughout the day. GO OBOBer's!